Mastering Compliance in Aviation
AMAS.aero's intuitive interface and comprehensive features make compliance and safety management simple and efficient.
Automate. Streamline. Improve.
At AMAS.aero, we believe in empowering organizations to turn auditing and inspection challenges into opportunities for excellence. With our Audits & Inspections feature, we bring you an all-inclusive compliance program that streamlines audit management and reporting, letting you focus on what matters most – delivering outstanding aviation services.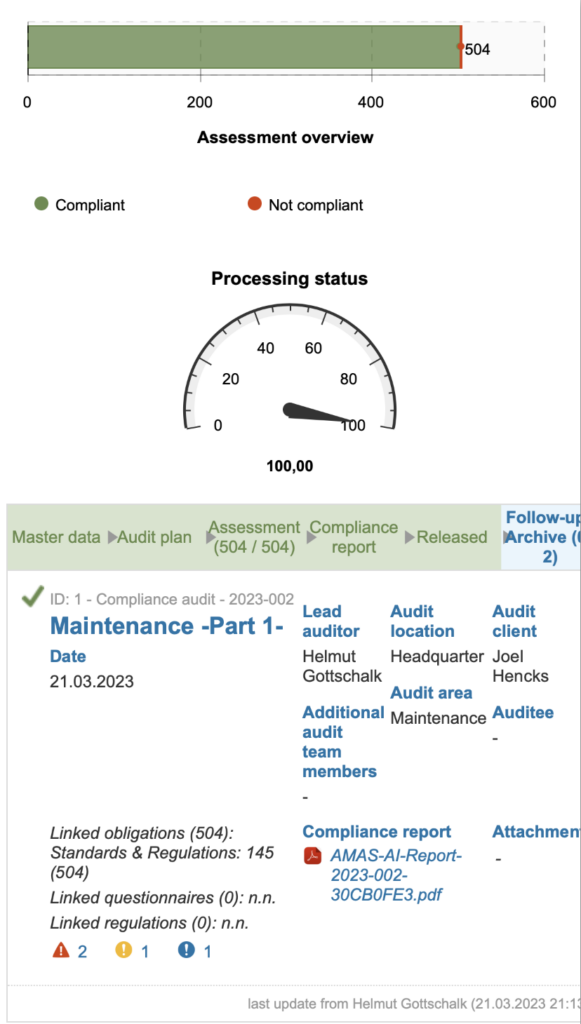 Audits & Inspections – Feature Overview
Proactive Planning & Scheduling
Take charge of your compliance program with our comprehensive audit and inspection planning and scheduling tool.
Internal and External Audits
Execute both internal and external audits with ease, ensuring your organization meets the highest standards.
Airworthiness Reviews (ARC)
Perform thorough Airworthiness Reviews, maintaining safety, and integrity in your operations.
Transition to a more sustainable, efficient workflow with our paperless audit process.
Get detailed audit reports, including non-conformities, recommendations, and observations. Distribute these reports automatically upon release for swift action and improvement.
Tailored Report Distribution
Customize your report distribution list for each audit, ensuring the right people receive the necessary information.
Regulation Cross-referencing
Easily link your audit checklists to the relevant regulations, ensuring comprehensive and accurate compliance.
Non-Conformities Classification
Classify non-conformities for an organized and efficient follow-up process.
Strengthen your audit verifications with photo proofs, ensuring precise documentation.
Customizable Approval Release
Tailor your approval release processes to match your organization's workflow for a smooth auditing process.
Prepare and distribute audit plans effectively, keeping everyone informed and aligned.
Visualize your audit program in a calendar view for easy tracking and planning.
Duplicate completed audits for recurring inspection needs, saving time, and increasing efficiency.
Stay in the loop with regular email notifications, so no important audit or inspection detail goes unnoticed.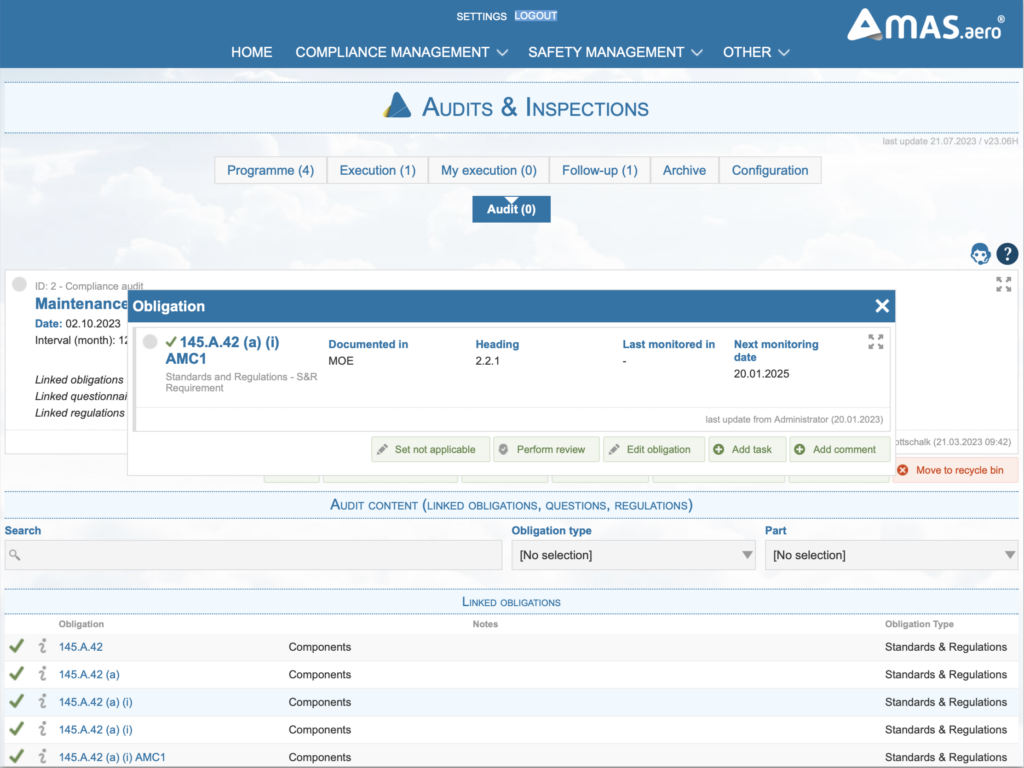 With Audits & Inspections from AMAS.aero, streamline your compliance process and bring efficiency and accuracy to your audit management. Experience the future of audit and inspection today.
Ready to transform your audit and inspection process?
Sign up for AMAS.aero today and elevate your compliance program.