Take Control of Your Compliance Register and List
AMAS.aero's intuitive interface and comprehensive features make compliance and safety management simple and efficient.
Navigating the intricacies of aerospace compliance can be a daunting task. With Obligations from AMAS.aero, we're taking the complexity out of compliance management. Our feature enables you to evaluate, manage, and monitor your compliance register and list, keeping your operations smooth and compliant.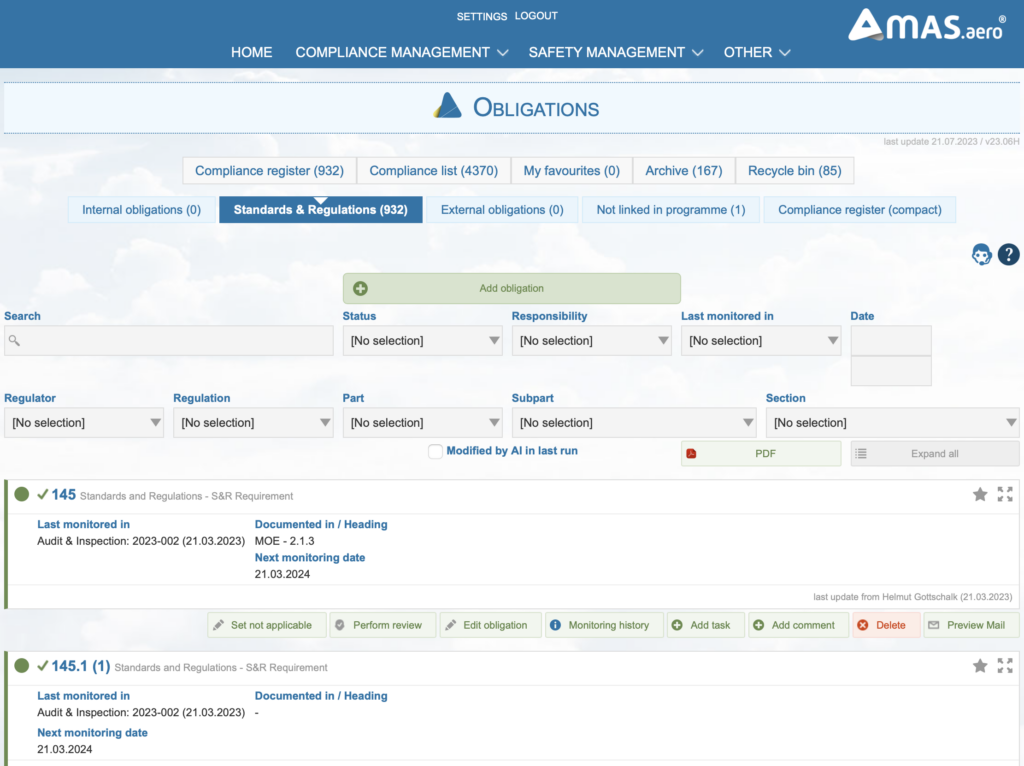 Obligations – Feature Overview
Evaluate obligations effectively, determining their applicability to your organization and operations.
Comprehensive Compliance Register
Gain a comprehensive overview of obligations in your compliance register, ensuring you're always on top of regulatory requirements.
Interactive EASA Compliance List
Utilize our interactive EASA compliance list, showing both applicable and non-applicable regulations.
Stay in control by continuously monitoring obligations, ensuring your operations stay in line with regulatory requirements.
Missing Obligations Alert
Be proactive with a display of missing obligations in the compliance register, helping to prevent potential compliance issues before they occur.
Use our assistant function to compile the compliance register and compliance list effortlessly.
External Document Linking
Link your obligations to an external document management system, such as Web Manuals, for seamless compliance management.
Keep track of regulations not yet assigned to a compliance audit, ensuring no requirement is overlooked.
Monitoring Intervals Overview
Stay informed with an overview of the last and next monitoring interval, keeping your audit schedule on track.
Display which regulations are monitored in particular audits within the audit program, creating a streamlined compliance process.
Maintain a listing of both internal and external obligations, providing a complete picture of your compliance responsibilities.
Set up favorites for quick access to most monitored or crucial obligations.
Task and Comment Addition
Add tasks and comments directly within the Obligations feature, enhancing team communication and clarity.
Set reminders to ensure no obligation goes unmonitored or misses a deadline.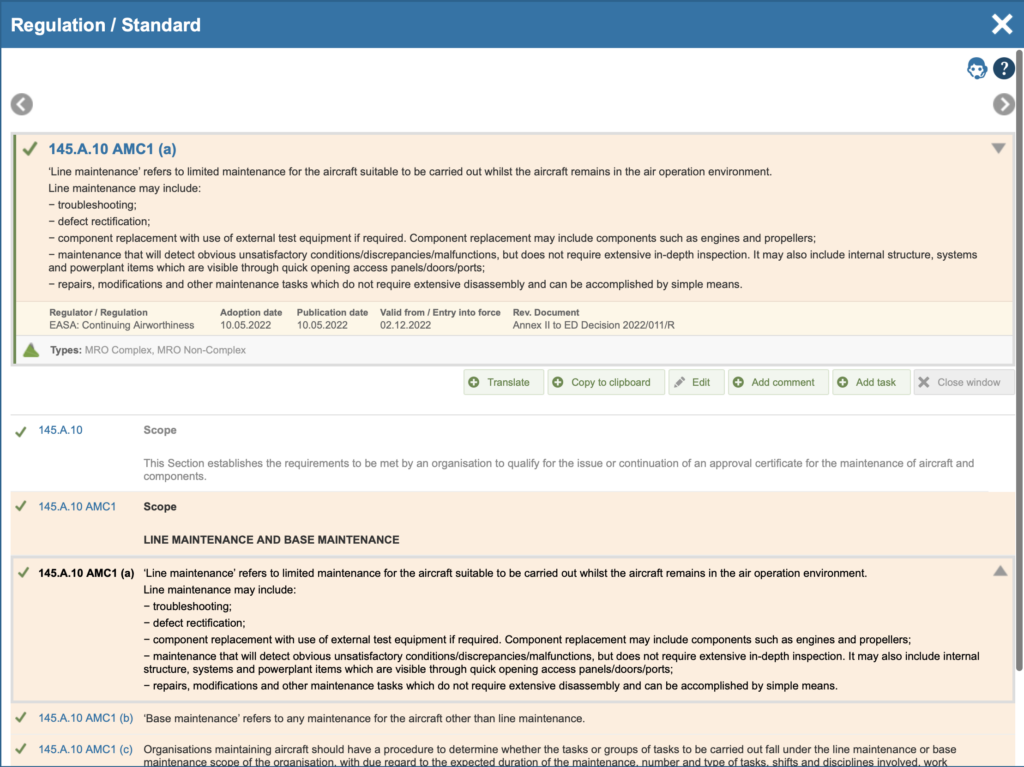 The Obligations feature allows you to efficiently manage and monitor your compliance register and list. Evaluate obligations, link to external document systems, set up favorites, add tasks, and more. It's more than just a tool – it's a strategic advantage.
Ready to take your compliance management to the next level?
Sign up for AMAS.aero today and revolutionize your approach to aerospace compliance.